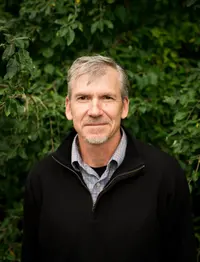 MA,LPC
Doug is a licensed professional counselor in the State of Michigan and also an ordained minister. He has degrees from Michigan State University and Dallas Theological Seminary, and has experience working with adolescents, adults of all ages, and couples.
Doug's desire is to walk alongside people as they travel along their journey, helping them to work through the various life and relationship issues that are keeping them from being their best and thriving.
His approach to counseling is built upon Ecclesiastes 4:12 which states:
A person standing alone can be attacked and defeated,
but two can stand back-to-back and conquer.
Three are even better, for a triple-braided cord is not easily broken.
True success and satisfaction in life is directly tied to our connectedness to GOD, others, and ourselves. Life cannot be done alone - it is too difficult and complex. We need others, others need us, and we all need GOD. The fact of the matter is, the earth we inhabit is a broken place, and we are broken people. We all struggle with something or someone, sometime. Our lives and our relationships come with many problems and troubles. We have strains and stressors, pains and pressures. We endure sickness, suffering, and sorrow, disappointment, disaster, and death.
There is really no good reason to face these struggles alone, and Professional Christian Counseling is an excellent way to get help, gain health, and grow in hope.
[email protected]
We are committed to your privacy. Do not include confidential or private information regarding your health condition on any form found on this website.
No form settings found. Please configure it.